We've all seen the new 911 991 GT2 and GT3,
but let's take a minute and look back on 997 GT2 and GT3.
『997 GT2』 と『997 GT3RS 4.0』。 
『991 GT2』 と『991 GT3』 がお目見えした今、997世代の二台を再考する。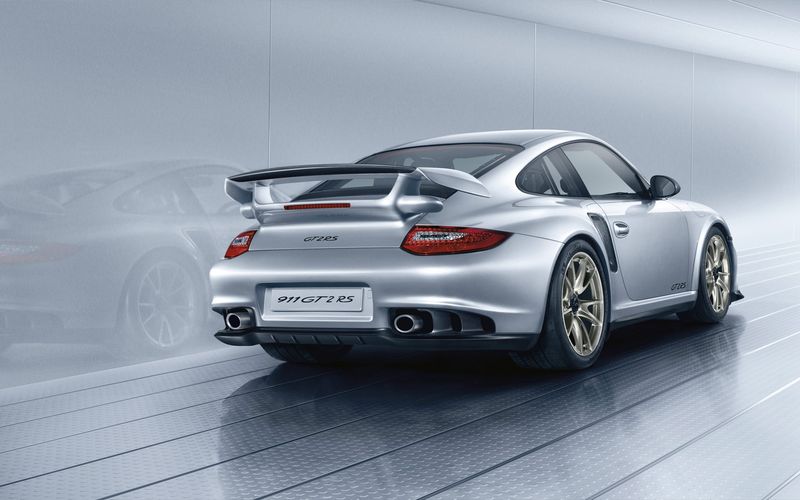 997 GT2RS
997 GT2 is based on the "Turbo"; GT2 got more power and offer rear wheel drive. Therefore 997 GT2 satisfies both power junkies and tradtional Porsche fans(that only likes RR). 
997 GT2 is one of the most powerful and fastest production vehicles on earth.  That's what Porsche wanted, and that's what they made. 
Porsche 911 GT2 991 is very different compare to R35 GT-R, however, both Porsche and Nissan must have had the similar misshion, "make the fastest production car, and make all sacrifices".  Meaning, giving up on manual transmission. 
If you want to be the fastest driver on the Autobahn, you need to keep buying the newer models because newer GT2s will be always faster than the older ones.  
997ターボをベースとし、さらなるパワーアップとRR化を施したGT2は、パワージャンキーと、リア駆動に拘る懐疑主義的な両ポルシェファンを満足させる限定生産マシン。 
その性格はGT-Rとは全く違っても、ある意味『R35的』に無慈悲なまでのスピードを、パワーと電子車両制御システムによって可能にしている。 
R35的なのでつまり、今後もモデルチェンジによってより速いスピードを、スピードのみを求めていくであろう。そこにFun to drive やDriving pleasure を求める余地はないのである。もちろん2ペダルとしているのもスピードと安全性を突き詰めれば当然の結果だろう。991のGT2は恐らく、いや間違いなく997のGT2の速さを上回るだろう。個人的な思い入れを抜きにすれば、スピードを求め常に最新のGT2を買い続けていく必要がある。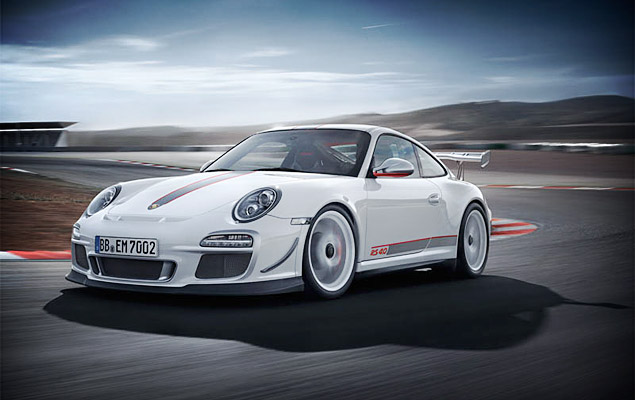 997 GT3RS 4.0
On the other hand, GT3s are different.  Since 991 GT3 will be offered only in 2-pedal (for now), the last MT model will be the type 997.  Even though theres a possibility of Porsche releasing the 3-pedal 991 GT3, we doubt it'll be as fast as the 2-pedal model.  Thus, 997 GT3 (especially the GT3RS 4.0) is the last MT model that Porsche made to be faster than the 2-pedal.  
2-pedal models are faster than traditonal 3-pedal manual transmission cars, and sadly that's a fact.  However, there are countless fans of 3-pedal model all over the world.  Sure going fastest is one thing, but some say there are more pleasure of driving and controlling cars with manual transmission. 
一方、GT3はどうだろう。 911シリーズの中、最も硬派なGT3でさえ、991からはマニュアル・トランスミッション(MT)の設定は消えた。スピードと安全性を考えると2ペダルが最善策であることに異論を唱えることは難しいが、しかし、それでもMTファンは全世界に多い。GT3、GT3RS、GT3RS 4.0と、997はそのどのGT3モデルも3ペダル設定で、究極の速さとFun to driveを高次元で実現している(それでも当然、2ペダルよりもサーキット周回タイムは劣るが)。 991 GT3に今後3ペダルの設定が追加される可能性もあるが、それでもきっとクローズドコースの一発の速さでは2ペダルが有利であり、よって3ペダルはその速さよりも趣味性の高いオプションとされるだろう。 ならば、997 GT3。とくに最強モデルであるGT3RS 4.0は3ペダルで最速を目指した最後のマシンであり、それは2ペダル設定がされた991以降のGT3とは今後も一線を画した存在となるだろう。 
アウトバーン上で最速を誇りたいのであれば、常に最新のGT2を入手する必要がある。997を持っていようが、991を買おうが、GT2は常に最新モデルを乗り続けてこそ、その存在意義たる『最速』を維持し続けることが出来るのだ。
一方、Fun to drive とスピードを高次元で実現させたいのなら、997 GT3RS 4.0 よりもベターなチョイスは、今のところ思い浮かばない。そして、今後も(たとえ991 GT3にマニュアル・トランスミッションが追加されたとしても)、997 GT3以上の存在にはならないだろう。そのルックスやスペックからも、997 GT3は、ポルシェ史上に残る名車の一台となるのではないだろうか。 
K