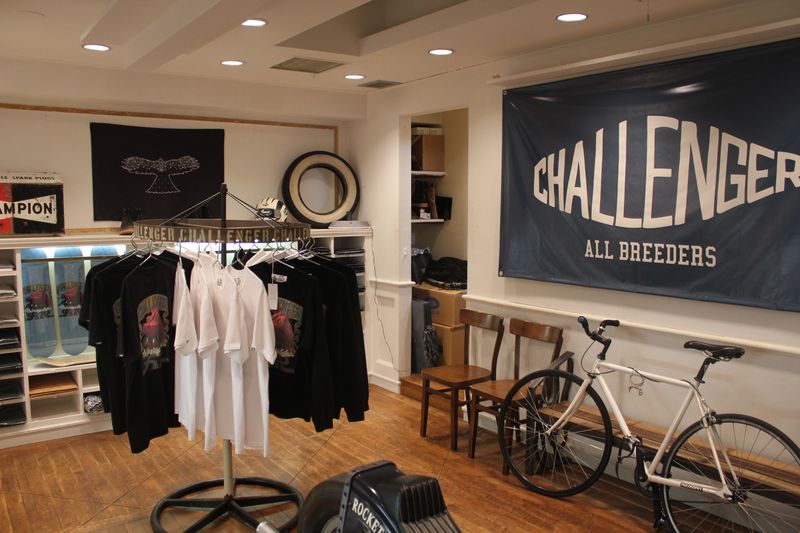 Challenger is one of the most up and coming street fashion brands in Tokyo.  They've collaborated not only with Neighborhood, but also with Sam's(custom chopper shop) and Kongs(motorcycle team).  
Challenger opened up a pop up store which only open between Nov 3, 2010 and Jan 31, 2011.  They have pop up store only items such Ts, bandanna, wallet, tool bag and custom Neighborhood x Porter helmet on  display(they will be sold after Jan 31, 2011).
Go check it out before they close.  Click here for Challenger Pop Up Store office website. 
スケボーやバイクなど、楽しいものがたくさん詰まったアメリカンガレージをコンセプトとして掲げるChallengerが、3ヶ月間限定のポップアップストアをオープン。
すでに数回にわたりコラボレーションアイテムをリリースしているNeighborhoodのほか、仙台のSam'sやモーターサイクルクラブのKong's、人気ショップのBuddyやBunkerstudとも限定アイテムを展開。
また、ポップアップストア内にはロケットハンマーと名付けられたドラッグスターやNeighborhood x Porter製ヘルメットをボディに使ったカスタムヘルメットがディスプレイ。 アーティストたちによりペイントされたヘルメットはFor Saleで、ポップアップストアがクローズした後販売されるんだとか。
1月31日のクローズまで次々とニューアイテムも投入されるとのこと。 店内やアイテムの写真は以下のリンクを、ポップアップストア・オフィシャルサイトはココをクリックしてください。