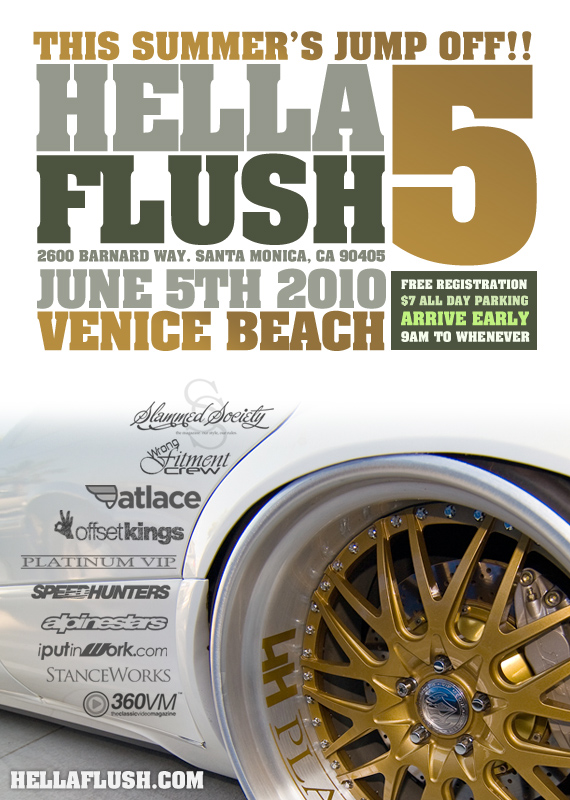 Tokyo Drive Magazine is all about car, fashion and music, and so is our good friend Mark Arcenal of Fatlace. Not only Mark is a car guy, but also he's into fashion, music, collectabale toys, design, architecture, travel, etc,  He is a perfect example of living a lifestyle that TDM is presenting.     
Mark and Fatlace crew have been hosting a car show called HellaFlush for a while now, including the ones in SF and Honolulu HI.  There's no doubt that Fatlace/HellaFlush is the most popular figure representing our lifestyle in No-Cal.  Now, it's time for So-Cal people to get a piece of it.
HellaFlush will be coming to Venice Beach on June 5th.  If you think your ride is "hella flush", go to www.hellaflush.com now and register your car for free.  For those that just want to go check out nice looking cars, all day parking is available for $7.  
For more information, go to www.hellaflush.com 
マーク・アーセナル。 
仕事柄、いやプライベートも含めて、色々な興味深い人と会う機会が多いのだけれど、マークは間違いなくそのうちの一人。 
初めて会ったのは7、8年前くらい。 同じクルマ好きとして知り会いった。 アメリカ人にしてはオシャレだなと思ったのが第一印象。 それもそのはず、マークは当時スタッシュと一緒にサンフランシスコでオシャレ系スニーカーセレクトショップNoteを経営してたと記憶している。 
LA、SF、そして東京、色んな所で一緒に遊んだり、マークがナイキで仕事している時には雑誌デイトナや所ジョージの世田谷ベースで取材させてもらったり、またマーク自身にもデイトナに出てもらったりもした。 
ボクらにとっては親友の一人のマークだけど、去年サンフランシスコに行った時、マークが関わってるFatlaceとHellaFlush、そしてillestがすごいことになってることを身を持って感じた。 サンフランシスコはLAやNYCと比べて小さい町だから、流行が広まる速度が早いってのがあるかもしれないけど、とにかくカーカルチャーとストリートファッション、ストリートカルチャーが好きな連中へのFL,HF,ILの浸透度がハンパ無かった。 みんなFLの洋服を身につけてるし、みんなILのステッカーをクルマやピストに貼ってる。 100%って言ってもイイくらい。 今風(いや、一昔前風?)に言えばカリスマだろう。 つい先日、日本の雑誌の表紙にFatlaceが出ているのも見かけた。 とにかく、今ノリに乗っている。
そんなマークとFatlaceのクルー連中がやってるのがHellaFlush。 オフセットはギリギリで、引っ張りタイヤはパツパツってのがHFのスタイル。 
そんな車両がみたい人たちは、5月7日、ベニスビーチへ集合。 
詳しくは www.hellaflush.com まで。